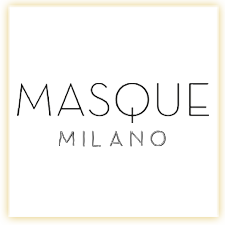 Two lads with plenty of shared passions. Passions for traveling, reading, music. They love design objects, natural materials, hand-made details. They believe in – and adhere to – commitment at work, as well as a joie de vivre outlook to life. They are two die-hard dreamers, who resolved to bring their emotions to life. In the year 2010 – after years of research in scents and essences in Grasse and artisans across Italy, they established Masque. Like good musical directors, they learned how to orchestrate a wide and well assorted group of maîtres parfumeurs and artisans. Fascinated by perfumes and fine fragrances, they strengthened their background by starting an educational program in olfactory techniques (encompassing study of the reference books, attendance to seminars and training courses). Through hard work and dedication they became better equipped in the enticing world of noses and raw materials. They put down their memories in words, it turned out a collection of "scenes", representing moments of their past, places visited, friendships and love, emotions and recurring dreams. "If only we could bring to life each of these scenes …we would reveal our innermost self, soaring from an absolutely intimate and ineluctably private standpoint, to view things from a universal perspective…" Not just Orchestra Directors, they now turned into playwrights and producers of an Opera. Acts and Scenes in which young and talented noses – rising stars of worldwide artistic perfumery – would wear the mask and interpret their roles. Year 2013, Masque Fragranze is born.
At Masque, the journey for the creation of a new fragrance always starts from a personal meeting with a nose. Simple yet important deeds: visiting the artist's lab, listening to the tale of his or her personal life and professional experiences, analyzing the approach to perfumes concoction and smelling the best creations. And then describing our visionary project, offering a collaboration, appointing the perfumer to the creation of a new fragrance – that of the most appropriate scene.
In the casting for the noses to interpret the scenes, Alessandro and Riccardo do not search for the ultimate technically talented skilled professional. It is empathy and passion that we seek. The ability to be deeply involved in the project, understand the brief, feel completely immersed in it, to the point that the creation of the perfume should came naturally at a certain point – without following any predetermined technical rule. Because we want to create perfumes with a soul.
Noses are free to create with no budget limits, any cruelty free row materials is welcome and the concentrations in alcohol are carefully adjusted, fragrance per fragrance, in order to reach a perfect balance between the technical parameters -sillage and longevity- and the atmosphere described in the represented Scene.
Masque Milano
was last modified:
May 18th, 2017
by