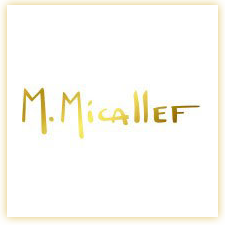 The M. Micallef brand was founded in Grasse in 1996 and is now a signature in the world of high end luxury perfumes. With almost 900 retail outlets in 46 countries, the company's success speaks for itself.
Martine Micallef was born in St. Paul de Vence and spent her childhood surrounded by art. With her artist's soul she instinctively developed her talents in designing, painting and sculpturing. Her consistency in creativity and her rich cultural heritage ensure the ever growing success of the brand.
Geoffrey Nejman was born in Germany, a hardened businessman from the world of private banking in Europe and the USA. He was seized by a passion for the fascinating and dreamlike world of perfumes in the mid 90's. Geoffrey has since been in charge of the Micallef scents creation in a perfect duo with Jean Claude Astier. With his banking expertise, he manages the company and works on the financial and structural growth of M. Micallef.
Driven by their individual passion and talents, Geoffrey Nejman together with Jean Claude Astier, a renowned "nose" developed exceptional fragrances while Martine Micallef with her artistic flair designed and developed a range of beautifully decorated bottles. The bejewelled collection, produced and decorated by hand became an iconic work of art and perfume seducing connoisseurs from all over the world.
M. Micallef
was last modified:
May 18th, 2017
by