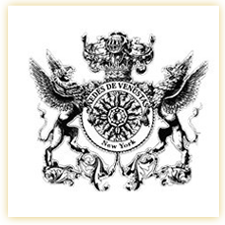 The Mind questions but the Heart knows. Experience the elegant discretion of Aedes de Venustas' urbanely sophisticated perfumes.
Aedes de Venustas opened 17 years ago in New York specializing in niche perfumery. Robert Gerstner and Karl Bradl built the boutique focusing their attention on bringing many niche brands to market. The company continues its philosophy to not produce 'for the market' and stays true to its beliefs, maintaining its legitimacy.
The company released its first perfume, Aedes de Venustas Eau de Parfum in 2012 to a welcome audience. And has since added five more fantastic fragrances to its repetior. The stunning heavy glass jewel toned bottles-a glamorous statement piece for your vanity- are merely the evocative capstone of the utter refinement contained within.
In collaboration with several renowned perfumers including Bertrand Duchaufour, Alberto Morillas, Frabrice Pellgrin , Rodrigo-Flores-Roux, and Ralf Schwieger , Aedes de Venustas offers a collection of six impeccably elegant perfumes redolent of modernity and a compellingly finessed urbanity that weaves into your consciousness.
Aedes de Venustas
was last modified:
May 18th, 2017
by